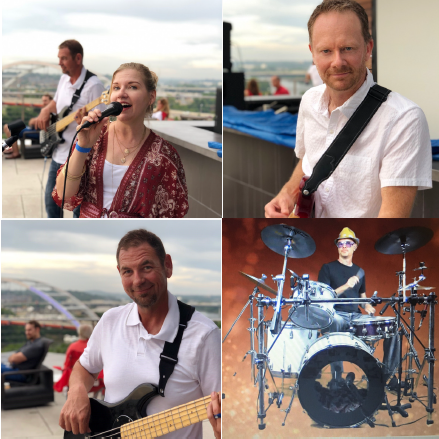 A Unique Entertainment Experience
The B3 Band (breckinridge basement band) brings a unique audio-visual experience to your event and venue covering rock, pop, blues and more! Rocking your corporate party, wedding reception, clubhouse, living room, backyard bbq or pool party -- the B3 band can pretty much play anywhere! 
We look forward to entertaining you, your team, customers and friends.
The B3 Band is:
Gail Pace - Lead Vocals/BGVs
Jim Pace - Guitar
Chuck Drinkworth - Bass
Jambo - Drums (also Jim Pace)
Services and Packages
CORPORATE/WEDDING/SPECIAL EVENTS 
 Any size venue, event space or restaurant
Options include custom set list, multi-media presentation, video backdrop, custom slide show, PA system, full lighting rig and emcee services. 
CLUBHOUSE/PRIVATE PARTY    
Community clubhouses, medium to large homes
Options include custom set list, multimedia presentation, custom slide show, small lighting rig and PA system. 
INTIMATE/ACOUSTIC EXPERIENCE 
Small to medium home, restaurant or event space 
Options include custom set list, small lighting rig and PA system.
"The B3 Band was the perfect choice for our daughter's wedding! We appreciated that we got to meet with Gail beforehand to discuss the event and exactly what we wanted. Every detail that was important to us was also important to the band. And they totally delivered!"
-- Jenny Y. , Wedding Reception Client
"B3 did a great job at our party. So glad Gail, Jim & Chuck could come share their talents with us. They not only provide amazing music but interact with the crowd and are willing to customize their performance to match the event.  If you're looking for entertainment for an event, B3 is what you need!"
-- Julie F., Private Party Client
"B3 Band entertained at my birthday party! It was a unique and outstanding experience for all my guests. We had our own private concert! Hands down best party ever!"
-- Lyn C., House Party Client
Sample Set List   
"Black Horse & Cherry Tree" KT Tunstall   
"Hurts So Good" John Mellencamp   
"Knock on Wood" Eddie Floyd   
"Tennessee Whiskey" Chris Stapleton   
"Take It Easy" The Eagles   
"Steve McQueen" Sheryl Crow   
"I Love Rock and Roll" Joan Jett   
"Shaky Ground" Rebecca Lynn Howard   
"Baggage Claim" Miranda Lambert   
"Superstition" Custom Arrangement   
"Sweet Child O Mine" Sheryl Crow/G&R   
"It's Only Rock and Roll" Rolling Stones   
"Heartbreaker" Pat Benatar   
"Mustang Sally" Custom Arrangement   
"Chain of Fools" The Commitments   
"Stayin' in Black Mashup" Bee Gees/ACDC   
"Bring Me Some Water" Melissa Etheridge   
"Good Times" Chic/Queen Mashup   
"Play That Funky Music" Wild Cherry   
"Tumbling Dice" Linda Ronstadt   
"The Weight" Shannon Curfman   
"Angel from Montgomery" Susan Tedeschi   
"Ex's and Oh's" Elle King   
"Super Duper Love" Joss Stone   
"High Road Easy" Sass Jordan   
"What I Like About You" The Romantics   
"Every Little Thing" Shawn Colvin version   
"Fell In Love with a Boy" Joss Stone   
"Blue Bayou" Linda Ronstadt   
"Landslide" Fleetwood Mac   
"Just Like Fire" Pink